Go! Princess Precure Episode 33
"Lesson Three! What's important now is to study and play all you can. Then that will connect with your dreams."
Ahahaha, wow this episode made me feel really old! It brought back a lot of memories of the age when I enjoyed these types of episodes just as much as any other. It had the talking cats, dress-up and make-over, and the precious moment of Shut receiving some acknowledgement and support from someone for the first time after thirty-three episodes. Overall, the episode was quite a wacky one, and because of the age I am at now, I usually don't enjoy these type of fillers. Fortunately, Miss Shamour showed us how she is an endearing character who has wise words, making it so it was enjoyable to see her fulfill her role in the spotlight this week. Miss Shamour regularly leaves the tablet on her own to go around town. Today she did just that with Kuroro, otherwise previously known as Lock. Kuroro is very timid and just wants to go back to Hope Kingdom, but Miss Shamour is trying to get him comfortable by encouraging him to study and play, and that will connect to your dream. (Well said!)
Besides the point of the episode, there were a couple of things that bugged me.
The first was how this episode's pacing (more so in the second half) felt rushed. We know there are two major events that are going to take place in the near future, first the inevitable angst reunion with Kanata, and of course the seeds of despair blossoming right under their noses, along with possibility of more unexpected drama with the theory about a possible dark history regarding the Princess Precures with Dyspear previously being the original "fourth".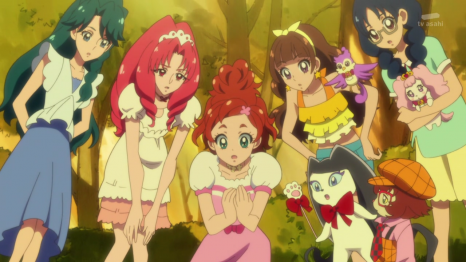 The second thing: I don't know if it was just me, but I felt like there was a disconnect between the girls "helping" the cats and the cat providing them a reward which then revealed to be a crest from Hope Kingdom's royal family. Now I absolutely hate how they had chosen execute this reveal. It feels so cheap, so easy, so ugh, it is a pet-peeve of mine for characters to receive a plot-progression device on a silver platter. I mean, it was literally handed to them. It may  have been more interesting had the girls found it in the bushes or at the beach themselves rather than to be given it. What is worse, this episode literally had NOTHING to do with Kanata- heck, they didn't even bring him up, not even once! And now behold! They now have Kanata's royal crest!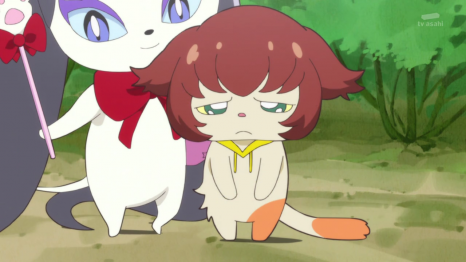 And finally, the third: The results of the literal transformation of Lock's character. His Fairy name is Kuroro, and he is super shy and has no memories as Lock.
Now let me tell you why I don't like the post-transformation. First of all, I don't see a single characteristic that reminds me of Lock, whatsoever. As we have seen in the previous series, villains who suddenly turn into fairies usually have a characteristic they shared in both forms. Of course it has only been one episode, and fair enough- Kuroro was not the one who was supposed to be in the spotlight, but I am not holding my breath for him to play a major role. I actually just expect him to be there, and that's it. I would have cut them some slack if  I knew he were harboring guilt of what he had done while he was an Imp. It would have explained his 'timid' behavior. And based off how he "lightened up" by the end of the episode, I would say it pretty much confirms he has no memory as Lock. unless Dyspear or Close were to try and remind him.
Ultimately, after waiting so long, the highlight of the episode was simply Shut finally receiving some recognition thanks to Miss Shamour. It was a very precious moment, and it made me happy for him and respect Miss Shamour even more as a character for choosing to help him than to fight him. She was able to identify his heavy heart of confusion and uncertainty, and make him feel beautiful by providing him some new tips to beautify himself in a new way. My inner fan girl had hoped he was going to make the transition this episode, but that itself would have been a rushed move- so we ought to be grateful for that. But I have to say, it was absolutely GLORIOUS to see Shut frolicking down the corridors past Close and his two minions without a care in the world! Keep being fabulous Shut!
Next week! Haruka will be modeling with Kirara in what appears to be  Princess Contest? Well this should be fun! I look forward to seeing Haruka being dressed up with make-up and all (hopefully it actually looks good like today with the other girls).