Eva's First Impression
I am going to start this off by acknowledging it was a very wise decision to make this premiere a 45 minutes episode. Had they not done so, I don't think they would have been able to deliver the same kind of impact and make itself stand out among the oversaturated market of the "other worlds, game-like" titles. In just one episode, rather than see the rise of a new hero, it focused on how he went from a nobody, to being framed to be a scum, and have the world he was summoned to supposed to save, turn against him.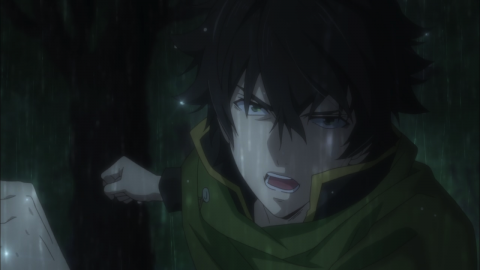 Long story short, Iwatani Naofumi was just an ordinary guy living an ordinary life until he finds a book in the library called the "Records of the Four Cardinal Weapons" and finds himself summoned into another world. There he finds himself enrolled as the "Shield Hero" among the four legendary heroes summoned to save the world. Although the Shield Hero is considered useless, Naofumi was still excited for what kind of adventure was ahead of him. However he was given a cruel reality check when he is betrayed by Myne, who framed him for a crime he did not commit, sexual assault. And just like that, his reputation completely tanked and broke all hope and trust he had for anyone in this world.
It seems the only one who realized that he is innocent, was the weapon shopkeeper. Although the guy was about to punch him for it, he didn't, and even gave him a cloak so he at least something to protect himself with. And as Naofumi promised, paid him back, proving he is a man of his word. Now Naofumi fights for the sake of getting out of there, since the only way he can return home is to defeat the waves of calamity, so in the mean time, much of his time is spent on scrapping for experience and gathering materials to feed to his shield or sell for cash on his own.
Talk about a rotten start.
It is absolutely tragic what had happened to Naofumi, because we know he didn't do it. He was smart enough to stand his ground of refusing to drink alcohol because he wasn't comfortable doing so, and went back to his own room completely sober. Instead he woke up to find everything was stolen with the exception of the cash he put in his shield. But after being screwed over like that, and nobody giving him the benefit of the doubt, he threw away the remaining cash the King had given him.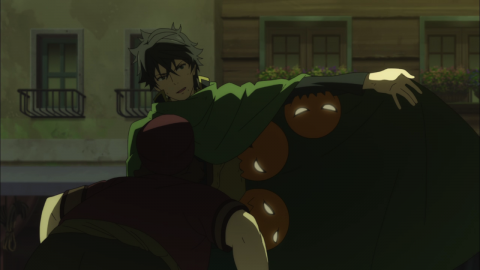 But perhaps what I enjoyed the most was seeing how quickly Naofumi adapted to reality of having to fend for himself, and how he has learned from his past mistakes. He is quite a pragmatic character when it comes to being smart with his money. In fact, He has even come up with a creative way to make sure vendors he sells his loot to don't try to play games with him. It was quite clever how he creatively made use of the balloon monsters as his 'weapon'. Because it doesn't hurt him when they chomp on him, that's pretty much how he carries them around, hidden under his cloak, and pulls them out whenever he needs them.
For a character who started off so naive, since he was betrayed, Naofumi's new no-shit policy applies to everyone, and is even open to purchasing a slave who is bounded by a curse that would ensure completely loyalty, to add to his team. It's the kind of security he is looking for, so it will be interesting to see whether he's willing to make the purchase.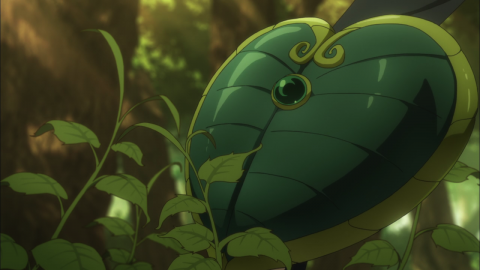 Another thing I really like about the series are the conditions where the heroes cannot use weapons other than what they were equipped with from the start. I don't know about the other guys, but Naofumi's shield at the very least, is litterally attached to him like it's a part his body. It adds the challenge factor, especially since he is a "tank", making it more difficult for him to level up efficiently. What's worse he has to do it solo, so he can't even get shared experience. What's also worth mentioning is the clever use of the skill tree, and how it affects how the shield will evolve, and the purposes it can be used for.
Overall I thought this was an excellent way to kick off the series. Although I own the first volume of Shield Hero, I actually haven't finished reading it, nor have I read far enough to see Myne's betrayal play out. (So really, I barely started… haha;;; I got side-tracked…sweats nervously) In many ways, I am glad I hadn't, because it did allow me to enjoy the drama unfold– even though I knew Myne was bound to betray him, it was written all over her face. But I'm probably going to pick it up again and finish reading it this weekend to get a better feel of how they are going to pace this adaption. The animation was also spectacular, I'm curious to see how it's going to hold out for the rest of the series.
As for blogging, I'm not sure yet whether or not I'll pick this up. If nobody else plans to, I guess it will really depend on how much I like Meiji Tokyo Renka (which is due to come out on Wednesdays as well) or maybe I'll spread out the release schedule to one of the shows being posted on Thursdays instead. This is a 24 episode series, so that's also something I will need to take into consideration. It really all depends on my condition and my life schedule, so I'll see what I can do if I do want to cover it. Either way, I'm looking forward to watching this and I strongly recommend giving this series a shot.
Possibility of Blogging: Moderate – If nobody else is interested, I'll give try giving it 3 episodes. Day of entry release may vary.
Possibility of Watching: Guaranteed